The Meadows Center offers visitors a starting point for exploring Spring Lake, one of the largest artesian springs in the world. San Marcos Convention and Visitor Bureau
If the first thing to come to your mind when someone mentions San Marcos is tubing, you're not alone. Wide, slow-moving rivers and lush vegetation make this the ideal destination for those who love to float, and of course, Texas barbecue on a warm July evening is second to none. For these reasons, summer is undoubtedly the most popular season for visiting this thriving college town. But with its picturesque scenery, historical charm and rich culture, San Marcos is a wonderful area to visit year-round. In fact, the off-season provides countless opportunities for relaxation, outdoor activities, artesanal dining and more. Here are just a few of the reasons why you should consider vacationing in San Marcos outside of the summer months.
1. Historical Tours and Museums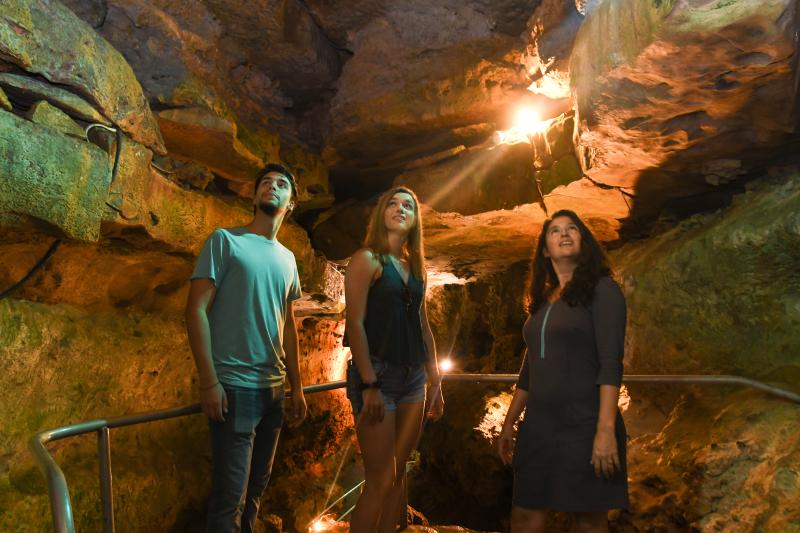 When it comes time for adventure, there is no shortage of things to do in San Marcos. Here, you'll find everything from classic car museums to historical sites—all offering fun quirks and charms to discover. Make sure to stop by Wonder World, one of the area's most sought after attractions. The natural theme park is built around the Balcones Fault Line Cave, which you can see up close in an underground tour. As if that wasn't enough, you'll also find a family-fun train ride and a wildlife petting park. Other attractions include the Calaboose African American Museum, the LBJ Museum, which focuses on the early years of the former president's life, or take a self-guided tour of the city's residential historic districts.
2. Outdoor Activities
While much of the country is covered in ice and snow in the winter months, San Marcos offers a mild climate year-round. Even if it's too chilly to get in the water, there are still plenty of opportunities for outdoor adventuring in San Marcos, including hiking, biking, paddling and bird watching. There are nearly 250 acres of parks along the San Marcos River, and plenty of scenic spots for a waterside picnic. While you're in town, don't miss the Glass-Bottom Boat Tour, organized through the Meadows Center for Water and the Environment on Spring Lake—one of the largest artesian springs in the world. You'll drift along one of the most scenic sections of water in town with a knowledgeable tour guide, and will likely see some wildlife while you're at it.
3. Top Notch Craft Beer and Wine Options
All that adventuring will work up an appetite. Luckily, San Marcos boasts an impressive lineup of breweries, wineries and restaurants that are sure to hit the spot. For beer, hit up Middleton Brewing. As one of the most popular watering holes in town, this brewpub pours out 15 styles of beer on tap, each inspired by the Texas Hill Country and its colorful character. You'll enjoy a flavorful brew while interacting with the local community. If wine is more your style, Three Dudes Winery is conveniently located on the banks of the San Marcos River. This casual winery serves award-winning varietals in a festive tasting room. Opt for a tasting to try them all, and once you've picked your favorite, head onto the open patio to enjoy the view.
4. ...And Even Better Food
Deep in the heart of Texas, the food is something to celebrate, so make sure to explore the San Marcos dining scene while you're in town. Step inside Patio Dolcetto for artisanal pizza and an enchanting atmosphere. Located in a nearly 100-year-old house on historical Cheatham Street, the restaurant offers top-notch wine, cocktails and craft beer alongside delicious flatbread pizzas, flavorful cheese, international chocolates and more. The outdoor, two-level patio is truly the place to be with its lush landscaping, relaxing lighting and soft music. Before or after your meal, wander through the space to witness the work of local artists. If you're lucky, you might even catch a live musical performance. For a dose of Southern charm, hit up the Root Cellar Cafe. This popular locale is situated in the historic Donaldson building, and usually racks up a wait on the weekends, but the bit of time you'll spend in line is well worth it for the fresh, new American cuisine (with a few Texan twists), and the friendly atmosphere.
5. Exciting Sporting Events
Texas State University is located in the heart of San Marcos, and boasts some of the region's best sporting teams. You can attend sporting events year-round, including basketball games, football games, soccer matches and more. Just make sure to wear your maroon and gold.
6. Superb Shopping
San Marcos is conveniently located near Houston, San Antonio and Austin — but residents of these thriving cities love visiting San Marcos for its abundance of outlet stores, charming boutiques, outdoor markets and authentic antique stores. Regardless of what you're looking for, you'll be able to find it here (and probably for a great price).
7. Vibrant Nightlife
If you're looking to live it up a little bit, there are plenty of nightlife options in San Marcos. The city comes alive as the sun comes down, and what else would you expect? This is a college town after all. The Spot, for instance, has something for everyone. Featuring a full-blown movie theater, bar, food, bowling alley and a large variety of arcade games, it's a fun place to gather for visitors and locals alike.Cheatham Street Warehouse, on the other hand, does a bit more to show off San Marcos' charming character. This historical music hall hosts local and national acts almost every night of the week. Dance along to honky tonk, blues, soul and live country—brownie points are awarded if you remembered your cowboy boots. Catch a nightcap at one of the many bars and restaurants in town to round out your evening. A local favorite is Zelick's Ice House, which is located in an old gas station, known for its excellent cocktail selection.
Written by Sarah Strohl for RootsRated Media in partnership with San Marcos CVB.