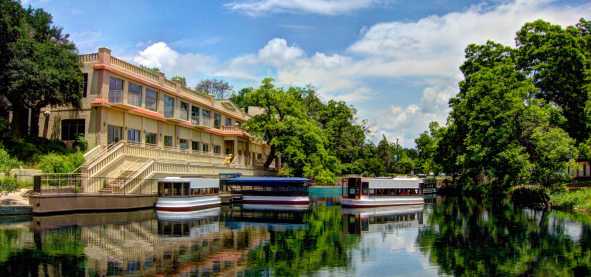 Wonder World Cave
Wonder World Cave & Adventure Park is fun for the whole family and has been a San Marcos must-visit for more than 100 years! From deep beneath the Earth in the Balcones Fault Line Cave to high above the Hill Country in the Tejas Observation Tower, and more, you'll simply have to experience it all for yourself.
Cave Tours
Journey deep underground into the Balcones Fault Line Cave, the only real earthquake-formed cave open for viewing, on a guided tour. You'll learn all about past geological eras, see fossilized prehistoric life and see what damage an earthquake can do! People have been exploring this cave since 1903 when visitors were charged 10 cents for a candle-lit tour. Don't worry, there are electric lights down there now…
Texas Wildlife Petting Zoo
The whole family will love hopping aboard the train and going to see some friendly locals at the petting zoo. You can feed and pet deer, pigs, goats, emus are more. Feed is available for purchase at the Train Station before your journey.
Anti-Gravity House
The Anti-Gravity House always mystifies and makes for a great photo opportunity. You'll notice the rules of nature don't really apply in the topsy-turvy world of the Anti-Gravity House and things that go up do not always come back down and water even runs uphill.
Observation Tower
For those not put off by heights, you'll want to take the "Stratavator" up 190 feet to the tippy top of the Observation Tower for a really cool look of the Texas Hill Country. You can see the Balcones Fault Line beneath you and also learn more about the landscape in the Observation Museum in the Sky.
What To Know Before You Go
Fully guided tours can take about two hours to complete for all four attractions. Tours leave every 20-30 minutes. The train ride takes is about a 30-minute adventure.
It's advised visitors wear comfortable walking shoes, as you will be exploring a cave with rocky terrain or potentially wet ground. The train and Observation Tower are wheelchair accessible, but the cave and Anti-Gravity House are not. Strollers are not allowed for tours.