Purgatory Creek Natural Area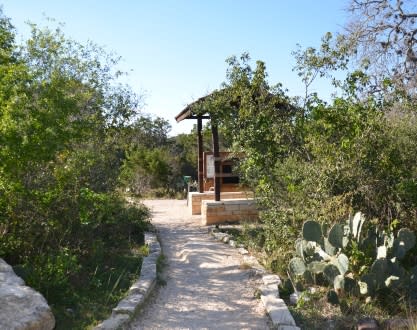 The largest portion of the 570-acre Purgatory Natural Area, Upper can be accessed at Wonder World Drive and Craddock Avenue. Visitors can hike along an old jeep track that winds through the property. The creek includes upland meadows, canyon bluffs of 40 feet or more, dense juniper thickets, champion oaks, and a flood control dam. Several areas within this natural area are habitat for golden-cheeked warblers and black-capped vireos. Passive recreation opportunities support a trail along the narrows of the frequently dry Purgatory Creek bed that runs through this natural area.

There are three access points to Purgatory Natural Area.

Access to Lower Purgatory Natural Area Trail Head can be found at 2101 Hunter Rd this trail head features 35 parking spots, water fountain, port-a-potty 

Access to Prospect Park in the Northern part of Purgatory Natural Area can be found at 1414 Prospect. This trail head features less than 10 parking spaces, no water and no facilities

Access to Upper Purgatory Natural Area Trail Head can be found at 1751 Valenica Way. This trail head features 29 parking spaces, no water and has a port-a-potty at the trail head. 
PARKS TIPS
A few suggestions to help you and your family/friends while in our parks:
Park curfew (when parks are closed) is from 11 pm to 6 am every night.
Charcoal or wood grills are not allowed in any park.
Propane grills are limited to one and only allowed at City installed picnic tables.
Pop-up tents or shelters are limited to one and only allowed at City installed picnic tables.
Personal tables are prohibited.
Prohibit the public display and consumption of alcohol in city parks.
Prohibit alcohol on city owned dams, spillways and bridges.
Ban the use of Styrofoam type products in parks and the river, including coolers, ice chests, cups, plates, toys, floats, kickboards, rings or swim gear. Styrofoam liners used in floatation devices or dock supports are exempt if they are encapsulated by a water-based acrylic or latex coating or within a boat.
Create tobacco free zones in play areas and athletic fields.
Prohibit smoking or E-Cigarettes/Inhaled vapor devices of any kind on all city property or in city parks
Animals are to remain physically restrained at all times.
Park rules apply in natural areas also.
Minimum fines for littering are $250.00 in the river and parks.
For additional park rules, please visit KeepALidOnIt.org
From leisurely strolls on ADA accessible trails to more challenging hikes on rugged terrain, San Marcos has trails for outdoor adventurers of all fitness levels.
San Marcos is a natural beauty and the most intriguing feature is her river. The San Marcos River bubbles to life from hundreds of springs right in the center of town. Always a refreshing 72…