San Marcos Mermaid March
One of the things that makes San Marcos the vibrant, colorful and quirky place it is, is the Mermaid March. The collection of larger-than-life mermaid sculptures can be found around San Marcos and stand about seven feet tall. Each mermaid represents a different aspect of what makes San Marcos unique. From local stories and popular attractions to its natural flora and fauna, you'll need to see each one for yourself.

You can also follow the Mermaid March virtually HERE!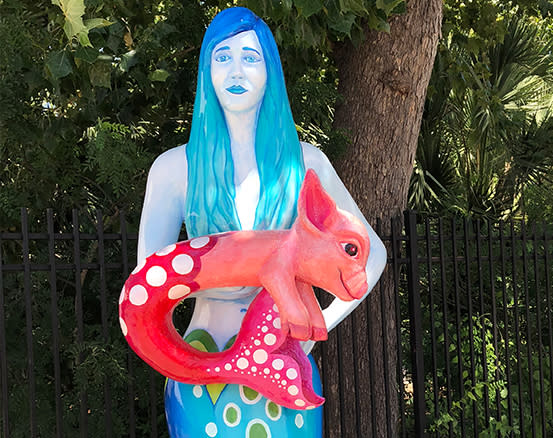 "Ode to Ralph" 
by Cheryl Latimer
LOCATION: Tourist Information Center
Artist Cheryl Latimer, known for her unique pop art cement sculptures, was inspired by the commercials she watched as a child for Aquarena Springs and Ralph the Swimming Pig. "The idea of combining the mermaid with a fantasy version of Ralph just makes me smile. 'Ode to Ralph' will be bright, fun and unique, just like the City of San Marcos," said Latimer.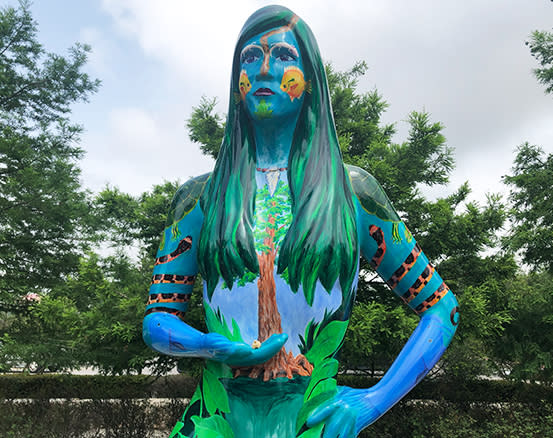 "AquaReina" 
by Jamie Kimmel Shelton
LOCATION: San Marcos Art Park, 501 E. Hopkins St.
A celebration of the San Marcos River and its flora and fauna, "Aqua Reina" showcases the beauty of natural San Marcos. "This amazing place allows us 'humans' to remember that we are part of a larger ecosystem. We are a part of this river as much as it is a part of us," said Shelton.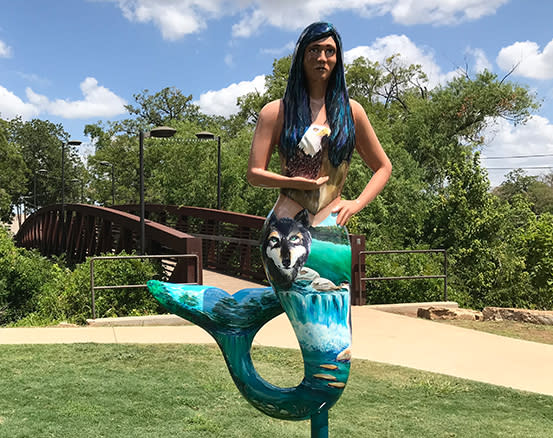 "Before Us" 
by Diana Weems
LOCATION: San Marcos Plaza Park, 501 E. Hopkins St. 
Diana Weems collaborated with the Indigenous Cultures Institute to get the Native American design of "Before Us" just right. The use of Native American folklore and imagery is used to depict the story of the creation of the Coahuiltecan people. The story says, "In the beginning of humanity, we, The People were spirits that wandered the Underworld. We emerged from the Sacred Springs and were guided by our guardian spirits: Deer, Eagle, Jaguar, Wolf and the Waterbird."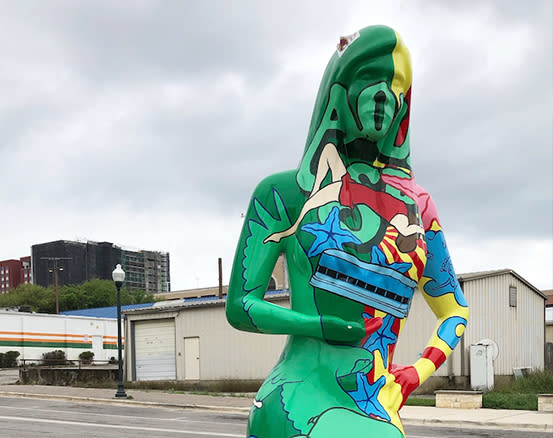 "Mermaid Playground" 
by Malachy McKinney
LOCATION: 380 E. Hutchsion St. 
This pop art mermaid was inspired by old the Aquarena Springs theme park and its attractions. You can see the Glass-Bottom Boats, the logo, fish, Ralph the Swimming Pig, mermaids and more on "Mermaid Playground."
*In storage until street construction complete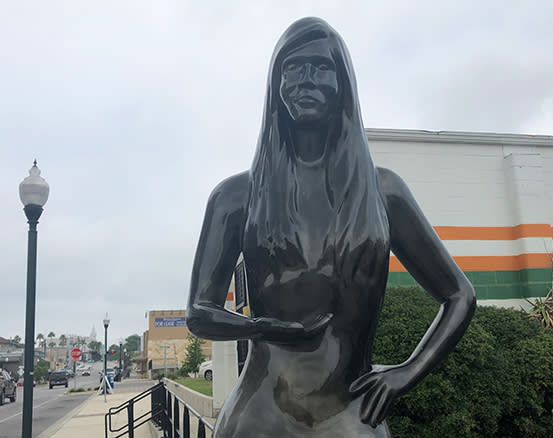 "Liquid Metal" 
by Darin Woods
LOCATION: 315 E. Hutchison St. 
From a distance "Liquid Metal" looks like a solid black mermaid. However, when you get closer the Mirrachrome paint acts like a mirror, allowing you to see yourself in the mermaid's surface. "I am stunned by the tiny differences in lighting in a subject from one moment to the next and I am compelled to paint them," said Woods.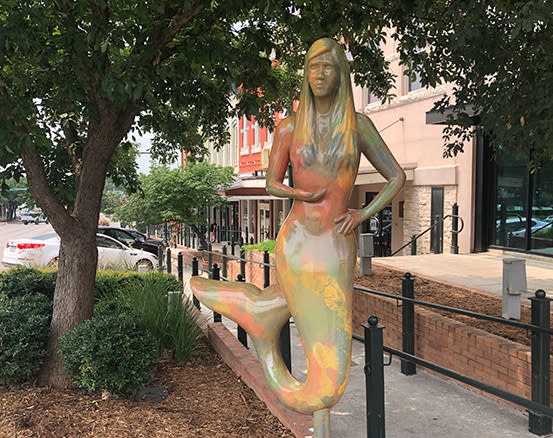 "Oh for a Muse of Fire" 
by April Layman
LOCATION: 137 Guadalupe St. at W. Hopkins St. 
Layman's mermaid, "Oh for a Muse of Fire," has a secret to its design. Painted with a thermochromic pigment, the statue changes colors with the weather. When the weather is cool, the statue is black. When the weather heats up, the statue becomes an explosion of color. If you happen to see this mermaid when she's black, you can put your hand on her and watch the colors reveal themselves.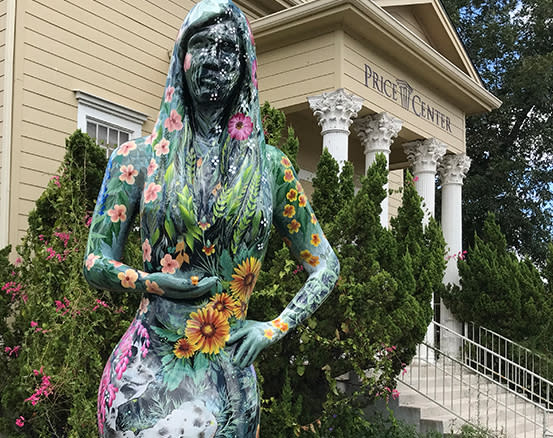 "Dianne" 
by Morgan Egan
LOCATION: The Price Center, 222 W. San Antonio St. 
Morgan Egan found inspiration for "Dianne" through the beautiful wild scape flower garden at The Price Center, and the mermaid's namesake, Dianne Wassenich. Wassenich has contributed to the San Marcos community as executive director of the San Marcos River Foundation and tends those beautiful flower gardens at The Price Center. "She is the real-life embodiment of everything the mermaid is supposed to represent: a passionate devotee to beauty for its own sake; a cultivator of healthy natural systems. She tends to the river as if it were her garden and knows every blade of rice and muddy patch. She understands above all the work that must be done," said Egan.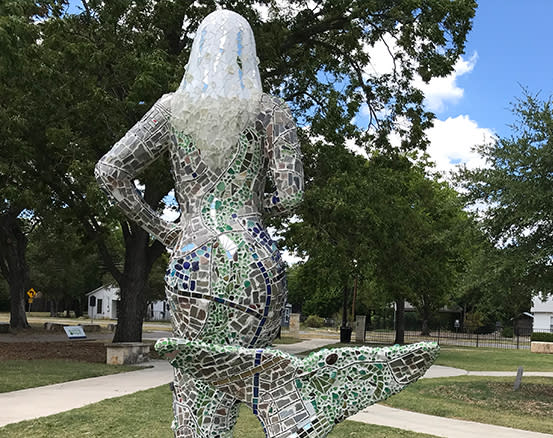 "Mermaid Map" 
by Grace Park
LOCATION: Crook Park 
Roads, train tracks, waterways and parks adorn this mosaic mermaid, a mer-map if you will… "The map shows that nature and civilization are in fact one and the same ecosystem and draws to attention the necessity of balance and mindfulness as this small town expands," said Park.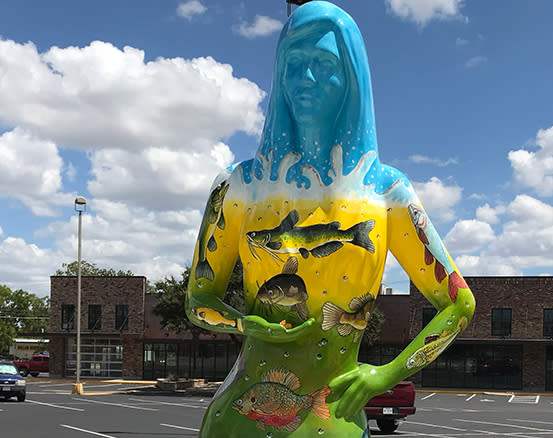 "The Fish of the San Marcos Waterways" 
by Doug Hiser
LOCATION: 110 E. MLK Dr. at Guadalupe St. 
Professional wildlife artist, Doug Hiser, used the river's diverse wildlife to decorate this mermaid form. The very detailed fish, all native to the San Marcos River, give people a close-up look at some of the fish they may spot while enjoying the river.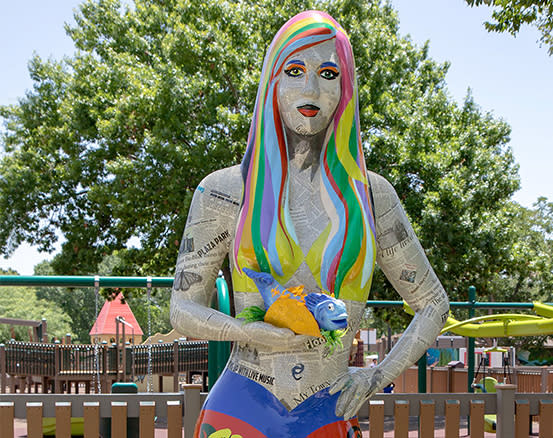 "Blooming Brightly" 
by Lauren Hofmann
LOCATION: Children's Park, 205 S. CM Allen Pkwy.
Using clippings from the San Marcos Daily Record, bright, playful colors and an eclectic fish taco adornment, "Blooming Brightly" is a vibrant interpretation of the culture in San Marcos. "Some of those [newspaper] clippings are personal to me, or they are personal to others- we all have a story," said Hofmann.


Download your Mermaid March map HERE. 

Every September merfolk take over San Marcos for the Mermaid Capital of Texas Fest. This annual event celebrates the unique San Marcos culture and features local art and heritage. The event is…
For thousands of years, the mermaid has served as a striking symbol of the powerful connection between humanity and the natural world. Our association with the mermaid is linked to the…