Walking around San Marcos is truly a sensory experience. The smells, colors, textures and tastes of San Marcos tell a story of the city, its citizens and the unique culture that grew here. One of the most important San Marcos cultural staples is the flourishing art scene. With an ever-growing collection of murals, sculptures, galleries and more, San Marcos has created a thriving culture for art lovers and artists alike.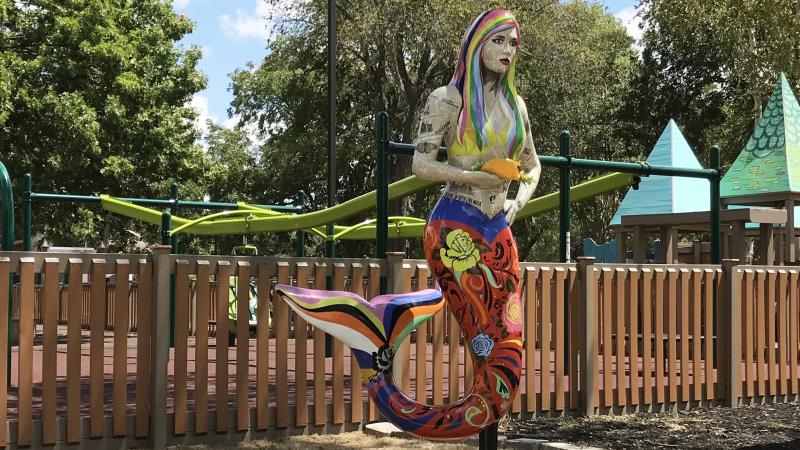 Public Art
From murals that take up the whole side of a building to teeny tiny pieces hiding in plain sight - you never know what you'll find exploring San Marcos. New art seems to pop up in the most unexpected places. Next time you stroll around the square we suggest taking a shortcut to look in alleyways and behind buildings to find your new favorite piece. And speaking of favorites, don't forget to share a photo of your favorites on Facebook, Twitter or Instagram with #SMTXperience! We'd love to see your shots.
Find a map of our public murals HERE and Mermaid March statues HERE.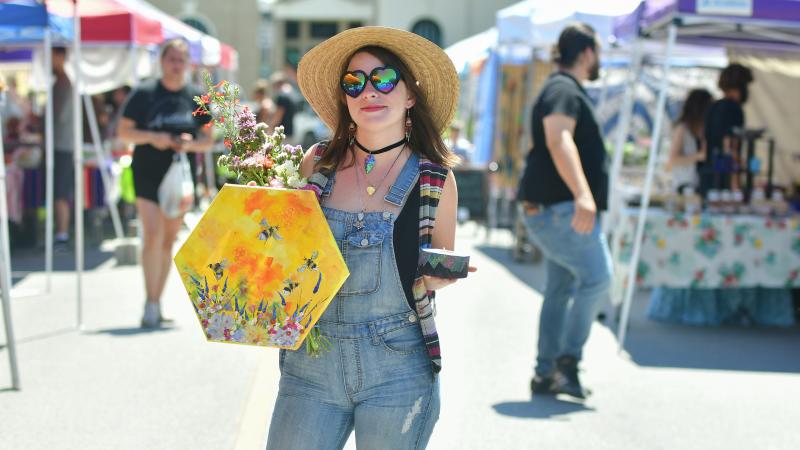 Art Markets
Ah, art markets – one of our favorite things to do in the spring. Nothing beats strolling from booth to booth to peruse unique art and home goods on a sunshine-filled weekend. And lucky for us, San Marcos has several options no matter the weekend! Also, every Saturday from 9am-1pm you can shop the Downtown San Marcos Farmer's Market. 
Saturday Market Soiree
Every Saturday
The Davenport
4-10pm
 
1st Saturday Mermaid Bazaar
Every 1st Saturday
Wonder World Park
10am-3pm
 
Art Squared Arts Market
Every 2nd Saturday
Hays County Courthouse Lawn
9am-4pm
Back Alley Bazaar
Every 3rd Saturday
Unknown Concept
2-6pm


SanMARKET SUNdown
Every 1st and 3rd Sunday
Studio San Martian
5-10pm
Martian Culture
Every 2nd Sunday
Zelicks
7pm-1am
 
Max's Haus Vintage Market
Every 3rd Weekend
Downtown Martindale
Thursday 4:30-8pm ($10 cover)
Friday 11am-7pm
Saturday 10am-4pm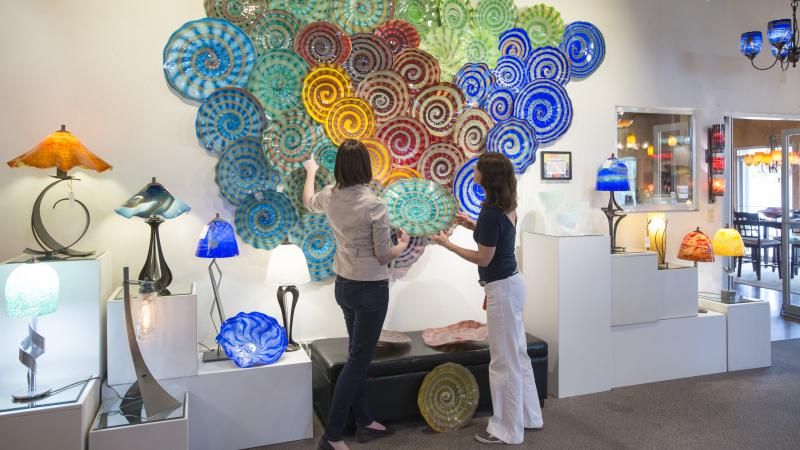 Galleries and Shopping
We are always mesmerized by the glass blowing demonstrations at Wimberley Glassworks. See the artists at work in their shop and then purchase some of their beautiful creations from the gallery so you'll always have a little piece of colorful San Marcos.
After all the time we've spent at home this past year, it may be time to add a little *pizzaz* to your space. Well, you're in for a real treat at the San Marcos Art Center! They've got wonderful pieces of work from local artists begging to go home with you.
In our opinion, no San Marcos experience is complete without at least a little bit of shopping. Enter Unknown Concept, Vagabond, Monkies Vintage and Thrift and Solid Gold. New items made from local creators and vintage treasures curated from fashionable locals – you really never know what cool item you'll discover shopping small in San Marcos.

Live Music and Libations
Of course, San Marcos isn't just a masterpiece for the eyes. Oh no, it's also a sensation to be experienced via taste and sound as well. That's why we always recommend you have at least one craft beverage of whatever strikes your fancy and a little local live music.
San Marcos has four wonderful craft breweries, two of which are located downtown, with outdoor or patio areas for you to sip and savor under the big and bright Texas stars. (AquaBrew, Sean Patrick's Irish Pub, Middleton Brewing and Roughhouse Brewing) Or, head to Patio Dolcetto for wines, bites and a romantic courtyard. And if you thought Downtown San Marcos was the place to be during the day, you'll love it when the sun goes down…
Kick back, relax and let the groove take you at one of our live music venues. Whether you're feeling like a small coffee shop show or a large concert venue, we've got you covered.