Of course San Marcos is a great place for people, but did you know it's also a great place for pets, too! From a hike through the Hill Country to a dip in the San Marcos River, and of course lots of delicious food and craft beer in between, San Marcos is a must-visit for anyone wanting to pamper their pup.
With so many options for your pet, you're going to want to stay a while. Good thing we have lots of dog friendly places to stay, also! Start here and click on the pet friendly link to book your home away from home for your next SMTXperience.
Go For An Adventure
Outdoor lovers will find plenty of ways to explore natural San Marcos. With a crystal-clear river that flows through town that's begging to be enjoyed and several scenic hikes all within city limits, you'll need a couple of days to experience it all. We suggest starting your day by hitting the trails. San Marcos is home to more than 1,200 acres of parkland and 22 miles of hiking trails. Spring Lake Preserve and Purgatory Creek are great natural areas to take your four-legged friend. Just don't forget to keep your pup on a leash and bring along some pet bags for picking up after your dog and water for both of you to stay hydrated.
After your hike, it's time to kick back and relax at Dog Beach by the San Marcos River, which stays a refreshing 72 degrees year-round. If you're looking for extra adventure, rent a kayak or stand up paddleboard for you and your dog – just avoid the falls at Rio Vista Falls.
Treat Yourself
After all that adventuring, you're going to need a pick-me-up. San Marcos is home to several pet friendly restaurants (Sean Patrick's, Railyard Bar & Grill and Ivar's River Pub) and a pet friendly coffee shop (Wake The Dead Coffee House), all of which have fantastic patios where you can hang out and enjoy the San Marcos atmosphere. Oh, and did we mention San Marcos has pet friendly breweries? Grab a locally crafted beer at Middleton Brewing or Roughhouse Brewing where you and your dog are sure to make plenty of local friends.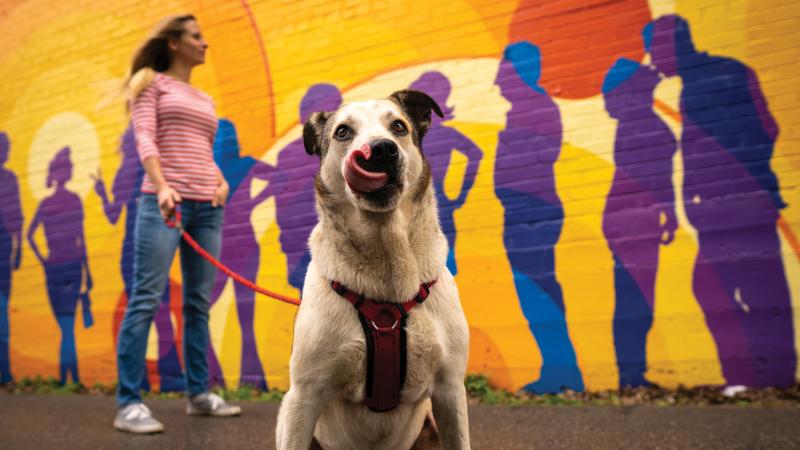 Ready For Close-ups
Of course, every SMTXperience should be documented, and what better way to capture your vacation with a photo in front of a colorful San Marcos mural? They may not appreciate the art, but we know you will. Walk around Downtown San Marcos and find one that suits you and your pup. That is if you can choose a favorite…