After the year we've just experienced, setting goals for the year ahead brings about a bit of, well, skepticism. The idea of setting goals like "lose weight" or "stop biting nails" after a year of sitting on our couch in stretchy pants that used to be a little looser and biting our (freshly washed for 20 seconds) nails every time the news comes on is daunting to say the least. So, we put together some fun, and pandemic-friendly, goals to put on your list instead.
1) Enjoy a second Saturday in San Marcos
If you've ever ventured to Downtown San Marcos on the second Saturday of the month, you'll know it's a lively place to be. Art Squared has booths set up on the Courthouse lawn filled with wares from local artists, fresh produce is being sold at the Farmer's Market and Shop 1893 at the Price Center has all sorts of treasures for you to discover.
 
2) Dip a toe or paddle in the San Marcos River
We aren't exaggerating when we say a trip to the San Marcos River will revive your soul. Maybe it's just the shock of the year-round 72-degree water, but we swear it works wonders… (In fact, legend has it the headwaters of the San Marcos River could be the location of the fountain of youth!)
3) Take a selfie with all 10 mermaid statues
Have you heard? San Marcos is home to ten 7-foot-tall mermaids who are placed in different locations around the city. You can find a downloadable map of the mermaids and their locations HERE.
4) Journey to the depths of a cave
Visit Wonder World Park to explore the Balcones Fault Line Cave - the nation's only true example of an earthquake-formed cave opened to the public. Once you've seen its depths, it's time to venture to the top of the observation tower (190 feet above ground level) for stunning views of the Texas Hill Country.
5) Explore a new-to-you trail
2020 might have been the year of the walk and we don't know about you, but we need to change up our true crime podcast neighborhood walks with a journey into good old mother nature. Thankfully San Marcos has plenty of trails to choose from for adventurers of all fitness levels.
6) Color the Hays County Courthouse
Missing your strolls around the Square? Bust out your markers, colored pencils or crayons and download your own Hays County Courthouse to color. You can draw yourself in so you'll forever be enjoying Downtown San Marcos. (This is also a great time to also check off #16 and make it a full San Marcos from home experience.)
 
7) See WWII planes up close
The Commemorative Air Force Exhibit (CAF) allows you to see historic military warbirds up close in a 1943 vintage wooden hangar. The jewel of the CAF is "That's All, Brother," which led the Allied invasion on D-Day in Normandy.



8) Stretch your legs at the outlets
Saying the San Marcos Outlets are big is quite an understatement. In fact, to shop the entire center would require walking about four miles. You can get your steps in while also finding a few things for yourself. Shopping absolutely counts as cardio!
 
9) Add some local art to your home
You've been staring at those same walls for a while, it's time to add some San Marcos pizzaz to them for a fresh new look! Check out the San Marcos Art Center for pieces from local artists or visit one of our art markets for all sorts of wares (see #1)!
 
10) See the springs
The San Marcos River is so clear that you can see to the bottom, so what better way to experience it than on a Glass-Bottom Boat Tour? Hop aboard a historic Glass-Bottom Boat at The Meadows Center and watch the lake being formed below. Boat captains point out the plants, fish and tons of turtles sunning themselves along the way, while explaining the history of the lake and the area.
 
11) Taste some local brews
There are four local breweries in town with unique atmospheres and flavors. Kick back, relax and enjoy live music, scenic views, family-friendly atmospheres, fire pits and lots of San Marcos charm. Or, buy some beer to go and recreate your SMTXperience in your own home!
 
12) Soak up local live music
Live music in San Marcos is as unique as the city itself. From legendary career-launching stages to small hole-in-the-wall bars, you're sure to find just the right vibe! Check here for each week's live music lineup.
 
13) Find a new favorite mural
From mini murals hidden in plain sight to gigantic artworks that take up the whole side of a building, we are bringing them all to you! You can take the mural tour virtually or use it as a map to go see your favorites.
 
14) Watch a movie or show filmed in San Marcos
We created a list of movies and shows filmed in San Marcos for you to add to your to-watch list. Some of these are 15 seconds of San Marcos glory and some were filmed here in their entirety. Let us know which ones are your favorites!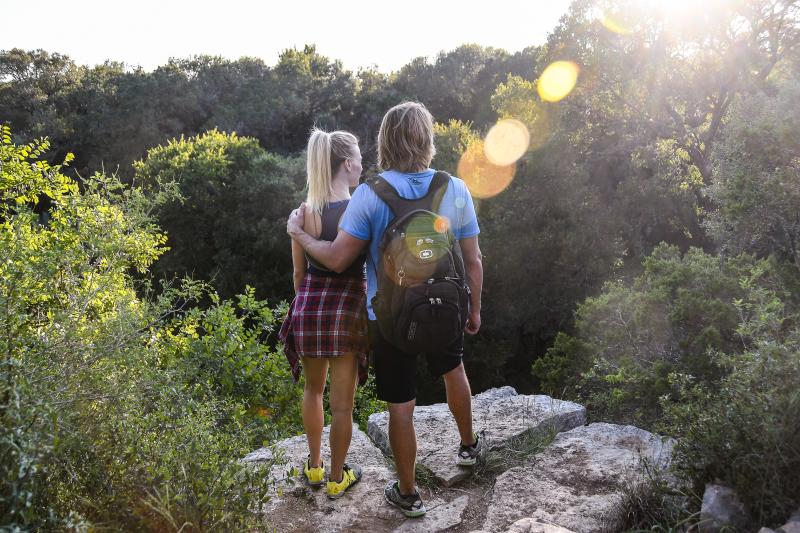 15) Take up birding
Don't forget your binoculars and clear your schedule, a leisurely day of bird watching is the perfect way to connect with nature! Go early, because you know the old saying, to see the best variety of birds and have the trails pretty much to yourself. Or, join in on the monthly bird hikesevery first Saturday of the month!
16) Listen to the Sounds of San Marcos playlist
Can't make it to a live show? Want to pretend like you're in the best place on Earth? We have some great local musicians on our Sounds of San Marcos playlist that can bring a night out in San Marcos to your home. Best paired with a San Marcos brewed beer and/or the Courthouse coloring page.
 
17) Watch a glass blowing demonstration
We are always mesmerized by the glass blowing demonstrations at Wimberley Glassworks. See them at work in their shop and purchase some of their beautiful creations from the gallery. You can also watch amazing videos of the process on their Facebook page.
 
18) Learn about San Marcos' unique history
Move over Paul Bunyan, chupacabras and headless horseman - San Marcos has stories to rival the best. From spooky stories to local legends, there is a lot of San Marcos folklore that really brings the place to life. 
 
19) Eat like a local
San Marcos restaurants are the heart (well, the stomach) of San Marcos' unique culture. From crazy burgers to eclectic fusions and everything in between – we want you to find your new favorite dish (and tell us what it is). Enjoy your meal alfresco on patios and in courtyards or find a nice shady spot somewhere alone for a more intimate dining experience.
 
20) Learn about the man, the myth, the legend
President Lyndon B. Johnson, the most well-known San Marcos resident, was larger than life. The LBJ Museum of San Marcos is a great place to learn all about his time in San Marcos as a university student.
 
21) Partake in a uniquely San Marcos event
2020 showed us that while COVID-19 may put a damper on our plans we are pretty good at adapting. The Sacred Springs Powwow, Juneteenth Celebration, Summer in the Park and so many more beloved annual events turned their events into virtual celebrations and kept the party going. So, whether we are able to see each other in person, or in spirit, we hope to celebrate with you in 2021.