It's February, the month of love! Whether you're looking to celebrate with a traditional date night or a local adventure, we have some great ideas for your perfect Valentine's Day.
 
The Traditional Date Night
Ah, the classic date night dinner and drinks. You really can't go wrong with treating yourself and your date to good food and a couple of yummy beverages. Lucky for you, San Marcos has great options for social distancing, outdoor dining, and whatever vibe you're going for! Want to make the date run a little longer? Make your way to Kissing Alley for a romantic nighttime stroll. Did you know San Marcos was named one of the most romantic main streets in America? 
Our favorite romantic spots:
Sarah: North Street and Black Rabbit
Charlotte: Umami Sushi and Jack's Roadhouse
Steve: Industry and The Davenport
Jared: Root Cellar and Zelicks
Trey: Cody's and Crafthouse
Rebecca: Casa Maria and Patio Dolcetto
For the Nature Lovers
Get your heart pumping and endorphins flowing with a romantic hike, paddle, or bike session. The quality time together exploring all the beauty that natural San Marcos has to offer makes for a really special Valentine's Day. You can also bring your four-legged loves as well! Really, what more can you ask for? Once you've worked up a thirst, it's time to hit some of the local breweries! Go for Texas Hill Country views and laid-back vibes at Roughhouse or Middleton. Or, head downtown for a lively nightlife scene at AquaBrew or Sean Patrick's!
 
Eye Candy and Sweet Treats
San Marcos is a pretty laid-back and colorful place to be and Downtown is the best place to experience it for yourself. We recommend getting yourself a sugary something to start off this date. Whether you go for a coffee concoction, uniquely flavored ice cream (Goat Cheese and Raspberry Jam, anyone?), mochi donuts or rolled ice cream creations, you're in for a real treat! Once you've obtained the dessert of your choosing, it's time to mosey. Wander down alleys and peruse behind buildings as you explore Downtown – you never know what you'll find. Take photos in front of murals, shop the boutiques and Art Center, and maybe even find a mermaid or two…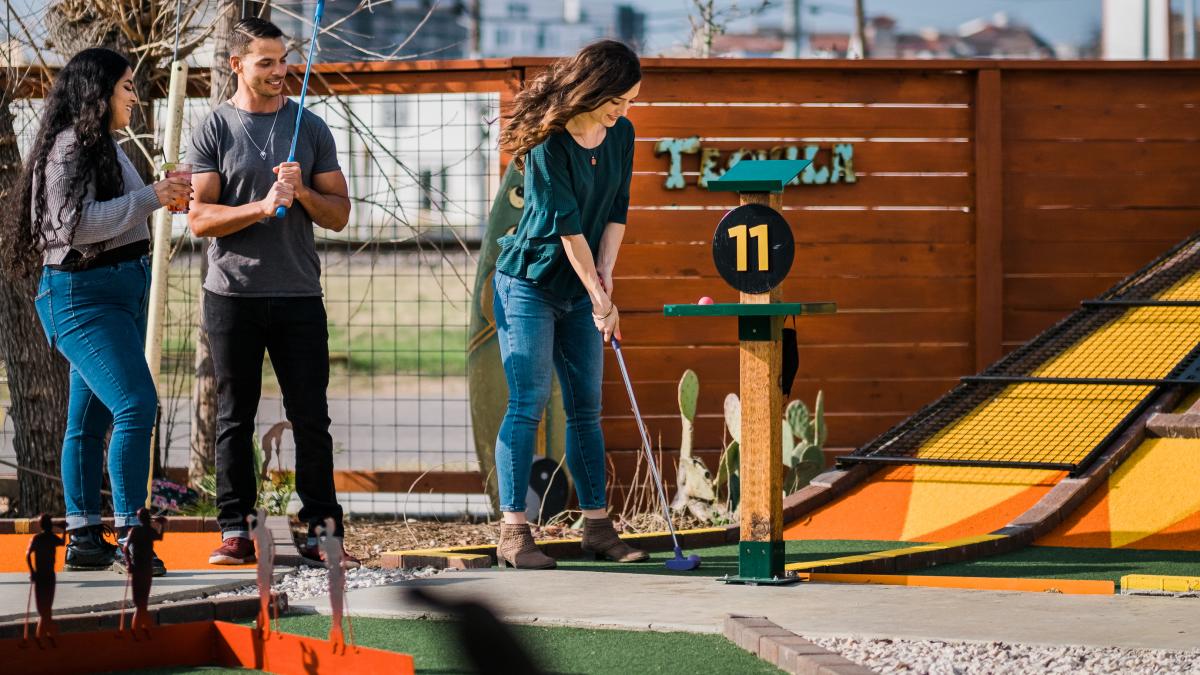 A Date You'll Never FOREget
Disc, mini or, you know, the normal kind – golfing makes for a very playful date. Schedule a tee time at the truly spectacular Kissing Tree Golf Course where golfers of any skill level will enjoy a round and feel challenged. Trade in the clubs for discs at Flying Armadillo Disc Golf Club. You'll have a blast throwing your way through either the mini-course or the big course with fun sculptural challenges like dinosaurs, the Alamo, and more. And last, but certainly not least, is the Putt Pub. Part bar, part mini-golf, and a whole lot of fun – Putt Pub has two full bars, indoor and outdoor seating, and food trucks to round out your playful date.